Original Title: "Pinguino delle Meraviglie Parla e Scompare"
Gazzettino dell'Avicolo
21st March 2008 - Genoa, Italy.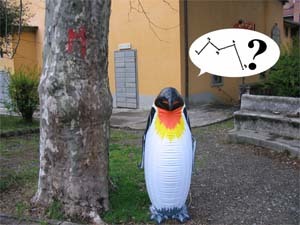 ©Sott



An Italian male was found in a state of shock by one of our correspondents who received a call at home requesting investigative and moral support. The story he was about to recount was kind of odd but backed by an impressive amount of corroborating evidence. Mr. Piero V. allegedly saw a penguin materializing into his house, an Emperor Penguin of sort considering its size, and told the reporter that the bird was communicating with him using telepathy. Although nearly incomprehensible at first, the bird, after a series of buzzy signals casted into Mr. Piero's brain, succeeded by making its intentions clear.

The nearly alienated Genoan then rushed on a specific place by following the directions given by the penguin, who was apparently in the need to share its findings, only to pop away in the blink of an eye, behind a tree. Mr. Piero said that after the initial shock he now feels energized and it's like he's living a new life. After having recapitulated all what happened in that weekend that ultimately looked like a lifelong time adventure, he now thanks wholeheartedly the mysterious bird.

P.V. said that the penguin started 'talking' to him only after having stopped near a tree with a red mark on it. He was already 300 miles away from home, in the nice town of Pontremoli (Tuscany).
Here's the transcription of the words given by the penguin. He named himself as "Pen Guinn", P.V. later told the reporter.