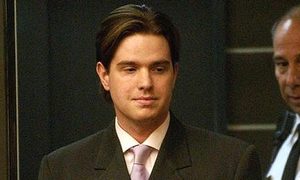 ©Reuters
The face of evil.
You've probably heard the story, or at least one like it. Husband kills wife and child, seemingly without remorse, then attempts to pass it off as a murder/suicide. And, remarkably, people believe him. The latest such example is Neil Entwistle, a British computer programmer, who murdered his American wife and 9-month-old daughter in 2006. He was recently
sentenced
to life in prison.
The trial made for a fascinating and disturbing spectacle. Aptly described by jurors as a complete
narcissist
, Entwistle put on quite the display during the presentation of a video of the bloody crime scene. But before we see his reaction for ourselves, let's see what the media tells us we see.