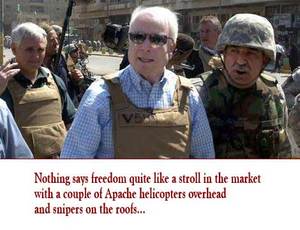 John McCain's April Fools photo op in a Baghdad market.
Media Spin, Limited Hangout, and the Melting of the American Mind
2007-04-10
When political debate in the US lies between "Should Gonzales stay or go?" or "Should we send 30,000 more troops in Iraq or not?", with no mention of impeachment and jail time for the Bush gang, you know there's a problem. The Signs editors look at a recent editorial page in
USA Today
and are shocked at how far political discourse has deteriorated... and it takes a lot to shock us!
We spend a lot of time gathering the news from many sources here at SOTT. We go all over the world via the Internet to bring the news to our readers. Of course, you won't find much, if anything, from Fox News, and very little from sources like USA Today, the "national" newspaper in the US of A. We can't get Fox TV so we are spared the most outrageous of the propaganda and brainwashing.
Every once in awhile, however, a real newspaper from the axis of evil falls into our hands. So it happened that a couple of days ago, we came across the Easter weekend edition of
USA Today
. We were so astonished by the lies and subterfuges it contains that we were inspired to do a podcast.