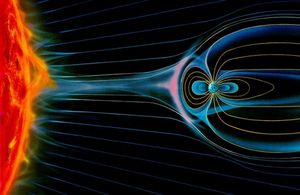 In my previous article,
"And They March..."
, I touched on the possibility that the mass death of blackbirds over Beebe, Arkansas was caused by the shockwave from an airbursting bolide or comet fragment. While that explanation seemed to fit with the facts in that specific case, it is clearly apparent that these animal die-offs are now a global phenomenon; and airbursting comets are not the cause of death in all cases. Furthermore, the animals dying are of very diverse types. Everything from
cows
to
octopuses
, to
crickets
are dying in large swaths in disparate regions around the globe. While animal-specific diseases and viruses may be responsible in some cases, there is clearly some larger process at work here that nobody in the mainstream has really grasped.
Shortly after I wrote this article, Niall Bradley mentioned in his article,
"Procession of the Damned..."
, the possibility of these mass animal deaths being caused by magnetic changes. Apparently he's not the only one with magnetic changes in mind. A quick glance at the Google trends for the phrase
"pole shift"
over the last 12 months (and beyond) shows a big ol' hockey stick, shooting straight through the roof right after the new year!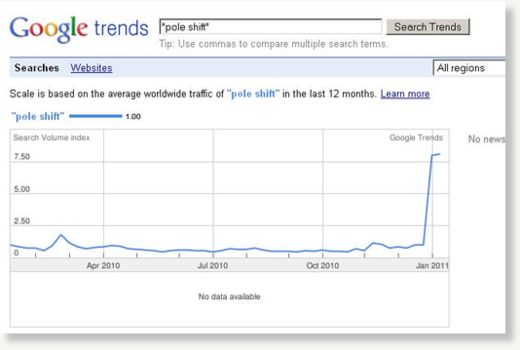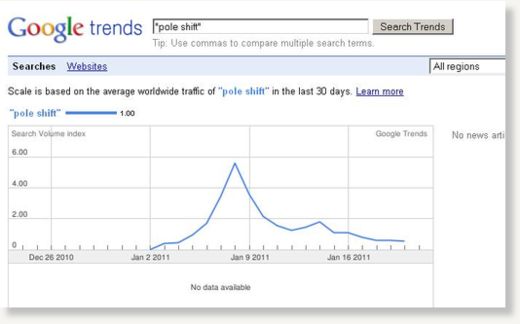 So while the geomagnetic field hasn't significantly shifted yet, it appears something has shifted in the minds of the public about such a possibility. In fact, here on SOTT.net we recently carried a story,
"Shift of Earth's Magnetic North Pole Impacts Tampa Airport"
which, according to our webmaster, and to our general surprise, was the most popular article on the site that day. The Tampa airport article simply states that the Tampa airport authorities are having to repaint one of their runways because it is no longer aligned with true magnetic north. No big deal, right?
But come to think of it, if a tiny magnetic (likely localized) shift is enough to throw a spanner in the works of air travel, I can't even imagine the chaos that would ensue during a complete magnetic reversal. As we'll see below, hindered air travel will probably be the least of our worries.