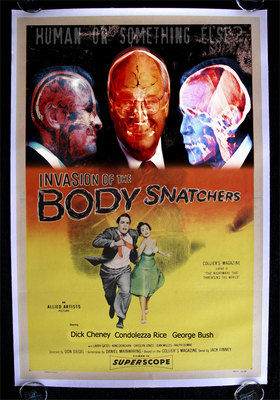 ©Signs of the Times
"Look! You fools! You're in danger! Can't you see? They're after you! They're after all of us! Our wives...our children...they're here already! You're next!"

~Dr. Miles Bennell, The Invasion of the Body Snatchers
At the end of WW II, an American soldier stumbled into a bunker in Berlin where he found Hitler, Mussolini, Stalin and a lawyer. He only had two bullets; which two of the three tyrants did he shoot?
Answer: None, he shot the lawyer twice.
Is it just a bad joke or does it tell us something important about our society?