Stardust
Sott.net
Sat, 08 Dec 2007 20:18 UTC
---
Henry See
Sott.net
Mon, 03 Dec 2007 22:41 UTC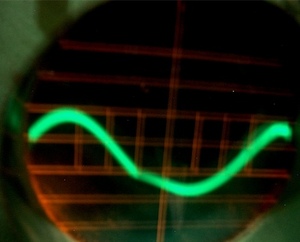 ©Unknown
A society can be the custodian of a vast quantity of knowledge, but if that knowledge is not spread out, held, and utilized by the entire population, it can do little good. It remains theoretical and is not applied. If the knowledge remains concentrated in the hands of the few, it has the same consequences as the concentration of money, resources, or business ownership in the hands of a few. It becomes a lever of power and oppression, not freedom and justice. A monopoly of knowledge is created.
Such is the situation in the United States today. A small few have real knowledge of what is going on in the world. The others are fed a diet of lies, half-truths, and wishful thinking.
---
Laura Knight-Jadczyk
SOTT.NET
Sat, 01 Dec 2007 18:33 UTC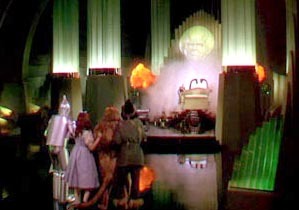 I am Oz the Great and Powerful!
I have to admit that I felt fiendishly gleeful when the reports came out that Hugo Chavez had exposed the CIA's little political destabilization game in Venezuela by getting his hands on the
"Operation Pincer" memorandum
and publishing it! What a hoot! It was just TOO priceless that the Man Behind the Curtain was exposed as less than the "Great and Powerful Oz," being instead, a gang of petty crooks in positions of power trying to again manipulate the public into believing their lies.
Of course, at the same time, we here at SOTT are all observing France and wondering if the
same tricks that are obviously being played
on the French will work considering France's higher educational and literacy level compared to the U.S. where the game obviously has already been won by the Man Behind the Curtain.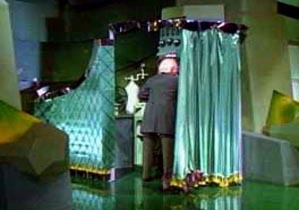 Humbug!
---
Simon Davies
SOTT.NET
Fri, 30 Nov 2007 15:07 UTC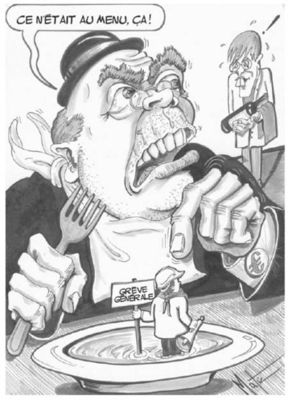 That wasn't on the menu!

(placard: general strike)
Citizens of France,
How would you feel if:
You had to borrow 5 or 10 times your annual salary to be able to have a home?
You had to purchase expensive private medical insurance to be sure of having any medial care?
Every hospital denied all medical care to those without private medical insurance?
There was no social safety net, no unemployment insurance for yourself, your family, and your children?
You had to work 40 to 60 hours per week with only one week of holiday per year - and even that only after you have worked for a year or two?
---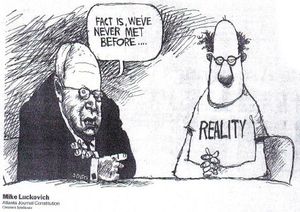 ©Atlanta Journal Constitution
We have already established in the first articles in this series that the insiders are psychologically deviant. What do we mean?
A healthy world view is one that sees the world as it is. Only by seeing the world as objectively as possible can we come up with plans and strategies that fit the facts and that enable us to navigate successfully. If our understanding of reality is wrong, then success can only be subject to chance. Such a view is understood in the sciences. It is obvious that an hypothesis or an experiment that does not take into account the reality being tested will fail. Of course, even failures help us to learn about the world; we eliminate erroneous possibilities and theories. Our knowledge can thus advance, but only if we recognize the error of our ways.
---
Simon Davies
sott.net
Sat, 10 Nov 2007 07:43 UTC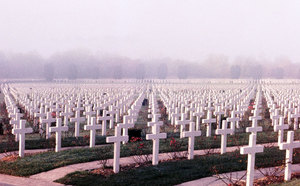 ©War Cemetery
However hard a truth is to bear, it has to be brought to light; for otherwise it will smolder in the dark and the lies that hid it will become ever more pernicious; the truth about war and the war's of the last 100 years, a hard truth that needs to see the light of day. Today's world is dominated by the most pernicious lies that history has ever known, those relating to warfare, for in truth war is the slaughter of the innocent for the benefit of the evil.
---
Martha Rose Crow and SOTT Focus
SOTT.net
Mon, 05 Nov 2007 05:22 UTC
Right before September 11, 2001, the alarm bells were ringing across trading floors about some unusual trading in the US stock options market. An extraordinary number of trades were bet that American Airlines stock prices would fall.

The trades are called "PUTS" and at least 450,000 shares of American Airlines stock were involved. What raised the alarms was that more than 80 percent of the orders were "puts" and they far outnumbered "call" options (those betting the stock would rise). Usually, the numbers are fairly balanced on these kinds of trades so this imbalance caught traders' attention.

The next day, four American passenger jets were hijacked in a terrorist attack on American soil. Three of these jets belonged to American Airlines. Two allegedly crashed into the World Trade Center and one allegedly crashed into the Pentagon. The fourth aircraft was a United Airlines passenger jet that allegedly crashed into a field near the town of Shanksville, Pennsylvania.
---
Zadius Sky
Sott.net
Mon, 01 Oct 2007 06:00 UTC
Fear grows in darkness;
if you think there's a bogeyman around,
turn on the light.
- Dorothy Thompson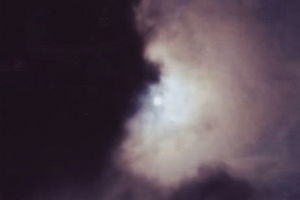 Fear is very much known to everyone and it is highly contagious. We see it everywhere, especially in today's world. When one becomes fearful, one's mind resorts to a state of being clouded or paralyzed. In order to overcome this kind of fear, one would require knowledge and the ability to think for oneself. Knowledge can surely protect us from that which we would be fearful of.
---
Laura Knight-Jadczyk
Sott.net
Wed, 31 Oct 2007 15:00 UTC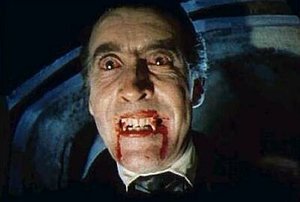 ©Hammer Horror
Dracula
Note: The following was written in late 1994. Much information has come to light since then as a result of our ongoing research. We would suggest that the reader might like to read our Timeline of Secret Government Research as well as our discussion of Cosmic COINTELPRO for a more complete (though still in process!) information base. This additional information may put a different light on the "mode" of the phenomenon in the present day, though the origins remain the same.
---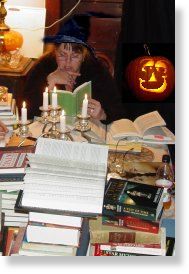 Even though this Hallowe'en special article was published in 2005, it is even more true today. And, with the recent publication of Naomi Klein's "Shock Doctrine" and Martha Stout's "The Paranoia Switch", the general public is now able to see even more of the "man behind the curtain" that Laura Knight-Jadczyk has been speaking and writing about for over 20 years. It doesn't have to be Hallowe'en to be scary anymore.
Last Hallowe'en I was left here at Signs Central to hold down the fort and produce the Hallowe'en Signs page by myself. That page has become a classic and I received a pile of emails from readers about it. What can I say? It was one of those golden moments in journalism where all the pieces were right to hand, and all I had to do was relax into the flow and write.
This Hallowe'en the Signs Team have asked me if I would write again and I am hard-pressed to think of anything that can top last Hallowe'en's page. However, Hallowe'en Weirdness (as it is wont to do) has certainly begun to weave its spell around the events of the last couple of weeks and maybe - just maybe - I have some Hallowe'en Candy for everyone!
---