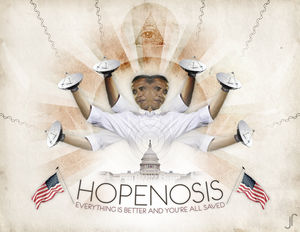 Warm winter blessings to our readers this New Year! And midsummer's greetings to our readers in the southern hemisphere! We thought we'd begin this month's Connecting the Dots by welcoming in the new year with some reflection upon the old: 2009 was a
truly smashing year
in more ways than one.
Climategate broke out just as Connecting the Dots went to print last month. As we felt might happen, the Copenhagen Summit took a mighty hit from the 'truth vibrations' and despite frantic efforts, no binding international treaty came to pass. For now.
The mother of all cosmic ironies was not lost on us as the temperatures plummeted and negotiations at the 'Global Warming' summit froze! But the question remains: is the freezing weather in the northern hemisphere simply explained by regular variations in weather patterns? Or is climate change, in the sense of a fundamental change in the planet's climate, really happening, only not in the way we're being told?
As the solstice is a time for festive fun, we have a special treat for you this month, a pantomime, complete with odd characters in funny costumes and underwear that sparkles! Even Silvio Berlusconi makes a cameo appearance, until his mask nearly breaks in two. Sadly, not everyone saw the funny side, so we'll be looking at some of the darker implications of such episodes. We'll also be assessing the likely impacts upon our lives as a result of the latest phony act of terror.
Venture with us now into the shadow world of espionage and subterfuge, where the heroes refuse to bow before the Evil Empire and the villains do their Zionist master's bidding on the grand stage of power politics. Who are the real terrorists in this Faustian drama? Are they connected to those who claim ownership of the planet's resources for themselves at the expense of humanity? Would they really have us pay for the air we breathe and the water we drink? Is it possible that 'evil' is a
real phenomenon
?