The rabid dogs of the US media have been out in force against Iran and Ahmadinejad in particular.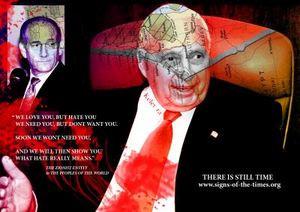 ©sott.net
For whose benefit is the US election farce being run?
Ann Coulter, that bastion of good taste and rational thought, spewed a
piece
with the catchy title "If we could talk to the Animals", in which she praised Bush's Knesset speech last week, paints Ahmadinejad as McHitler and Barack Obama's comment that he would speak with Iran as appeasement.
The spleen with which she rants, devoid of any truth, and the depths to which she will stoop to push her War Whore agenda knows no limits. She even refers to Barack Obama as "B. Hussein Obama" - now that is really cheap, isn't it? But when you're selling the supreme crime against humanity (war of aggression), stooping so low is a matter of course.