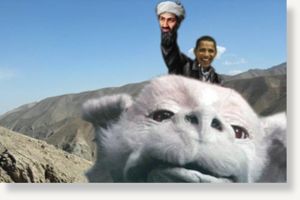 As with most fabricated terror stories, the 'Bin Laden is dead' tale is full of contradictions, half-truths and outright lies. The fact that the story was fabricated from whole cloth is seen in the fact that the story is now changing from the details that initially 'emerged'.
Who precisely made the claim that 'Osama' had a weapon and shot at US forces and that he used a woman as a human shield? What situation could a US soldier have found himself in where he thought he was under direct fire from a person in a room when he was in fact not? What possible scenario could have played out where a person was perceived to have used a 'human shield' when that person did no such thing? These are the questions that need to be asked as part of a serious investigation into this matter. But don't hold your breath.
As of now, we can only conclude that these two scenarios were simply made up as part of an initial report on the alleged death of Bin Laden and they point directly to a conscious plan, right from the beginning (or even long before the actual events of May 1st) on the part of US authorities to concoct a false story to be disseminated to the public.