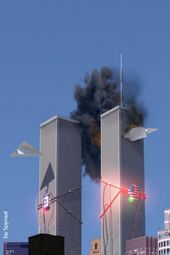 It's been nine years since 9/11. Millions of people, civilians and soldiers have died world wide in the following war on terror. The American people have lost basic rights due to the Patriot Act. In Europe and other countries, similar "security measures" have been implemented. Anyone who has been on an international flight has experienced some of it first hand. Trillions of Dollars are spent on the war on terror, while millions of people have lost their jobs and homes as the economy is disintegrating worldwide. The emperor is naked and there is an elephant in the living room, but to this day the official story of 9/11 has not been significantly challenged publicly.
I find it interesting how people in this day and age talk about a "shift in consciousness" or "awakening" into a "New Age" while after 9 years the biggest lie is still in place. Especially Liberals and people who themselves believe to be "aware" and "conscious", yet they vote for Obama and dare not to question 9/11 or man-made "Global Warming". I think most people simply don't want the truth, for the truth is a tricky thing. It's a can of worms most people are not willing to open, as it will challenge their beliefs and ideals on a core level. Hence, they rather defend/ignore the lie and the lies they tell themselves.
The furthest most people go in regards to 9/11 is that "Bush let it happen"
à la
Michael Moore, but to realize, by looking into it deeper, that it was actually an Inside Job leading to Israel and not "Islamic Extremists" is still too far out for most people. It's a touchy subject, because it'll require them to question much of what they ever thought to be true about this country and the world in general.