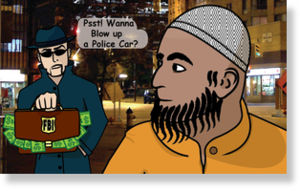 So a 'lone wolf' 'home-grown terrorist' has been apprehended, in the nick of time, by the FBI and NYC cops. Or so the story goes. The problem is, we've heard this one before, many times. Jose Pimentel,
like so many others alleged 'jihadis' before him
, is undoubtedly the victim of yet another FBI sting operation rather than a dangerous terrorist. FBI sting operation? "What's that?" I hear you ask. Well, in case you've fallen victim to the 10-year-long 'war on terror' government and media mind-job, allow me to explain, or rather, allow me to point you to some fairly reliable sources.