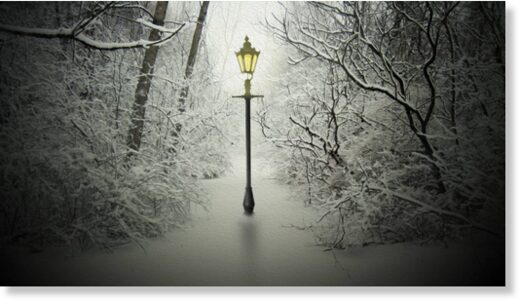 "Boris Johnson? Who is he?" asked Lucy.
"Why, it is he that has got all Covidia under his thumb," said Mr Tumnus. "It's he that makes it always Covid. Always Covid and never Christmas; think of that!"
- The Lion, the Witch and the Wardrobe, CS Lewis (with a few changes)
Were he around today, I have no doubt that C.S. Lewis, one of the 20th Century's greatest intellects, would be utterly scathing of what the British Government has done to this country over the past 7 months, given that
it has been the very epitome of the scientific and technocratic oligarchy he warned us about decades ago
. And so I feel somewhat at liberty to take his comment about the White Witch turning Narnia into perpetual winter without joy and without Christmas, and apply it to our own situation in the land of Covidia (which is where you now live) -
a place of perpetual fear and misery, where ordinary life is impossible, and where any hints of joy breaking out must be nipped in the bud before they are allowed to grow to challenge the new winter normal that is settling fast around us.
The words may even turn out to be literally true. In Scotland, they are already talking about what they call a digital Christmas, whatever absurdity that is, whilst in England
a psychological game of Good Cop/Bad Cop is going on, with Comrade de Pfeffel Johnson apparently desperately hoping that we'll all have a normal Christmas, but with members of the ironically named SAGE committee saying this is wishful thinking
. Who will win out? Of course the Bad Cops will win out, but no doubt carefully managed and cleverly messaged to present it as a kind of victory for Good Cop, whereby he wangles some concessions for us, such as a relaxation of the Rule of 6 to the Rule of 6+1 for a day, so that Great Aunt Maud doesn't have to spend the day alone, and with Rishi Sunak perhaps pledging some more of his magic beans to fund subsidised turkeys. Come to think of it, cut-price turkeys would be a fairly apt metaphor for those in charge of this debacle. But lest they try to befuddle us with silly details over the next few weeks, hold this thought front and centre:
The idea that anyone should need permission from the likes of de Pfeffel Johnson and his crew to be able to celebrate with their family and relations the coming of the King of Kings into the world is beyond parody.