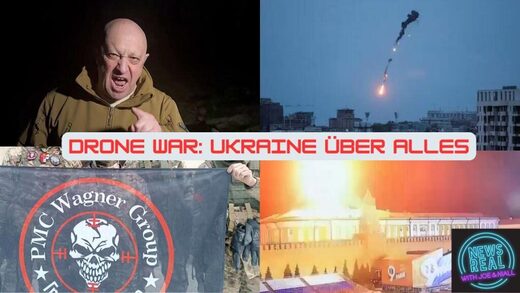 Things aren't looking good for the Russian 'SMO' in Ukraine. Increasingly bold sabotage attacks by the Ukrainians last week, together with the almighty row kicked off by Wagner founder Yevgeny Prigozhin about official Russian military support for his mercenary army (and the apparent lack thereof), do not augur well for Russian success against the coming 'Ukrainian counter-offensive' to drive them back beyond the Sea of Azov.
Is it all just 'optics' though? Does Russia just
look
weak, while in fact retaining the stronger hand? On this
NewsReal
, Joe & Niall sift the 'information war' from the 'tanks-and-guns' war, highlight the latest 'geoeconomic shifts' in the transition to a multipolar world order, and discuss the dire implications for free speech following the trial launch of a draconian crackdown on such in Ireland.
Running Time:
01:35:26
Download:
MP3
— 65.5 MB