Story at-a-glance
Judy K. Brown's book, "Perversion of Justice: The Jeffrey Epstein Story," details the conspiracy of silence surrounding the biggest alleged pedophile and sex trafficking mogul of our time, Jeffrey Epstein, and his network of rich and powerful people, which includes Bill Gates
Corruption is rampant throughout our public health agencies and medical organizations. The Bill & Melinda Gates Foundation funds the Food and Drug Administration in the U.S. and the Medicine & Healthcare products Regulatory Agency in the U.K.
The Gates Foundation also owns shares in Pfizer and BioNTech, raising questions about corruption in the FDA and IHMA, both of which appear to have given Pfizer's COVID shot preferential treatment despite overwhelming safety concerns and questionable effectiveness
The Gates Foundation is also a primary funder of the Institute for Health Metrics and Evaluation, which was responsible for the grossly inaccurate modeling that led to several governors ordering COVID patients to be sent into nursing homes
Gates is now calling on the western world to sacrifice itself in order to stave off climate change. But the climate change crisis, like the COVID pandemic, is a red herring, used to justify the implementation of the Great Reset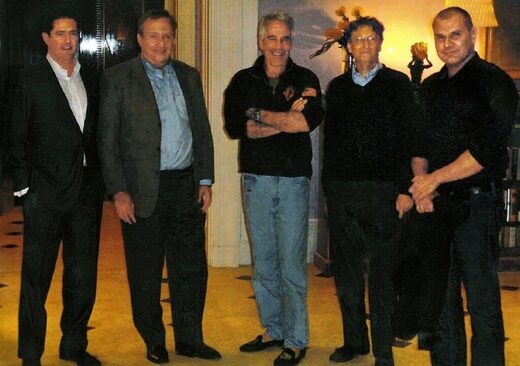 In the video below, Russell Brand discusses Judy K. Brown's book, "Perversion of Justice: The Jeffrey Epstein Story," which details the conspiracy of silence surrounding the biggest alleged pedophile and sex trafficking mogul of our time, Jeffrey Epstein.
The media's refusal to dig into the Epstein story, Brand says, suggests the media are part of a corrupted establishment that protects the rich and powerful, no matter what. One rich and powerful person who enjoys the legacy media's protection is Bill Gates.
Gates and Epstein
Brand cites an article in The Daily Beast,
1
claiming Gates had dozens of meetings with Epstein between 2011 and 2014 alone, typically at Epstein's Manhattan home. When news of Gates' relationship with Epstein emerged in 2019, Melinda Gates reportedly contacted a divorce attorney.
According to The Daily Beast, Gates "encouraged Epstein to rehabilitate his image in the media." If true, this suggests Gates may indeed have been closer to Epstein than he's been letting on. An anonymous source who claims to have been present at several of the meetings has said the two were "very close."