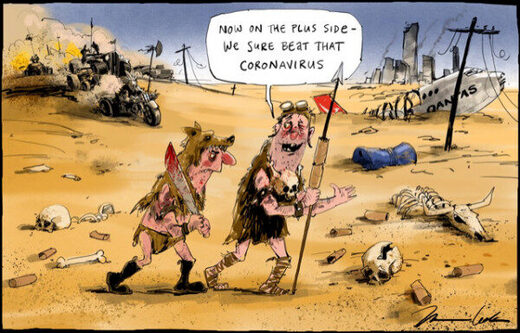 The imposition of the nationwide lockdowns required elite consensus. There's no way that a project of that magnitude could have been carried out absent the nearly universal support of establishment elites and their lackeys in the political class. There must have also been a fairly-detailed media strategy that excluded the voices of lockdown opponents while- at the same time- promoting an extremely dubious theory of universal quarantine that had no basis in science, no historical precedent, and no chance of preventing the long-term spread of the infection. All of this suggests that
the lockdowns were not a spontaneous overreaction to a fairly-mild virus that kills roughly 1 in 500 mainly-older and infirm victims, but a comprehensive and thoroughly-vetted plan to impose "shock therapy" on the US economy in order to achieve the long-term strategic ambitions of ruling class elites.
As one sardonic official opined, "Never let a crisis go to waste."
It was clear from the beginning, that the lockdowns were going to have a catastrophic effect on the economy, and so they have.
As of today, 30 million people have lost their jobs, tens of thousands of small and medium-sized businesses have been shuttered, second quarter GDP has plunged to an eye watering -45.5 percent (Atlanta Fed), and the economy has experienced its greatest shock in history.
Even so, pundits in the mainstream media, remain steadfast in their opposition to lifting the lockdowns or modifying the medical martial law edicts that have been arbitrarily imposed by mainly-liberal governors across the country. Why? Why would the so-called "experts throw their weight behind such a sketchy policy when they knew how much suffering it was going to cause for ordinary working people? And why has the media continued to attack countries like Sweden who merely settled on a more conventional approach instead of imposing a full-blown lockdown? Swedish leaders and epidemiologists were unaware that adopting their own policy would be seen as a sign of defiance by their global overlords, but it was. Elites have decided that there can be no challenge to their idiotic lockdown model which is why Sweden had to be punished, ridiculed, and dragged through the mud. The treatment of Sweden further underscores the fact that the lockdown policy (and the destruction of the US economy) was not a random and impulsive act, but one part of a broader plan to restructure the economy to better serve the interests of elites. That's what's really going on.
The lockdowns are being used to "reset" the economy and impose a new social order.
But why would corporate mandarins agree to a plan that would shrink their earnings and eviscerate short-term profitability?