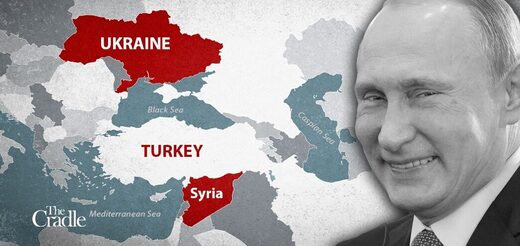 The US shouldn't have poked the Russian Bear. Now it is fully awake: after Ukraine, the Russians are likely to do a clean sweep of foreign belligerents poking around the East Med and the Black Sea.
This is what happens when a bunch of ragged hyenas, jackals and tiny rodents poke The Bear: a new geopolitical order is born at breathtaking speed.
From a dramatic meeting of the Russian Security Council to a UN history lesson delivered by Russian President Vladimir Putin and the subsequent
birth of the Baby Twins
- the People's Republics of Donetsk and Luhansk - all the way to the breakaway republics' appeal to Putin to intervene militarily to expel the NATO-backed Ukrainian bombing-and-shelling forces from Donbass, it was a seamless process, executed at warp speed.
The (nuclear) straw that (nearly) broke the Bear's back - and forced it to pounce - was Comedian/Ukrainian President Volodymy Zelensky, back from the Russophobia-drenched Munich Security Conference where he was hailed like a Messiah, saying that the 1994 Budapest memorandum should be revised and Ukraine should be nuclear-rearmed.
That would be the equivalent of a nuclear Mexico south of the Hegemon.