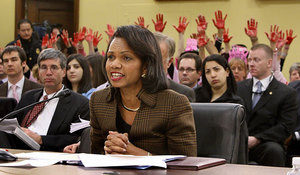 ©Doug Mills/The New York Times
Reading the news lately, there certainly appears to be an unusual amount of activity in many different spheres of power and influence. The Principle players seem to be moving in unison and orchestrating events in rapid succession, as if following a schedule.
They may think they're doing it slowly enough that no one will notice (knowing the lead time they have) - and they're
almost
correct - most people don't notice - but then there are those who do notice... those keeping the sott.net lighthouse lit.
So, it seems that, at this present moment, it has become necessary to try to block the lighthouse beam with internet search engine suppression and myriad other tricks such as silly lawsuits - good thing that light is rather like water in that it will always find a way out of enclosed places - the smallest hairline crack is all that's needed; and once it's out, you can't get it back in.
Let's see what light filters through the cracks once we begin to connect some interesting recent dots...