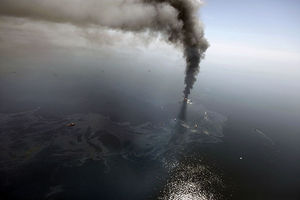 "This is the Seventh Sign: You will hear of the sea turning black, and many living things dying because of it."

White Feather, a Hopi of the ancient Bear Clan.
On Wednesday 21st April an explosion rocked an offshore oil drilling platform
in the Gulf of Mexico
, sending a column of fire into the sky and claiming the lives of 11 oil workers. 52 miles southeast of Venice, Louisiana,
Deepwater Horizon
was built in 2001 by Hyundai Heavy Industries Shipyard in South Korea. It was owned by Houston based Transocean Ltd, under contract to British Petroleum Plc. Almost immediately a federal lawsuit was filed on behalf of one of the victims in New Orleans, Louisiana, alleging the companies connected to the oil rig explosion were negligent.
The mainstream media has been performing consistently in downplaying just how catastrophic this disaster is, for marine life in the Gulf of Mexico, for inhabitants along the coast and, depending on how this plays out, possibly for the entire planet. Never before has the blind greed of so few been so immediately damaging and obvious to so many. Let us hope that the shock, revulsion and anger generated by this truly catastrophic event inspires masses of people to
see
how the psychopaths that rule our world guide humanity's destructive trajectory towards oblivion for all life on Planet Earth.