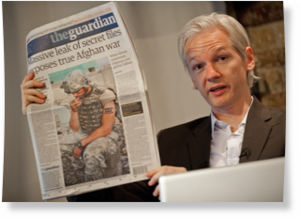 A friend recently asked me what I thought of the wikileaks business. He said that he was still a little idealistic, and thought perhaps that there are still some "good guys" out there who can really make a difference. I wondered, in terms of the wikileaks documents, precisely what kind of change my friend, and presumably many other social justice activists, are hoping for?
The documents in question describe US military activity in Afghanistan, in all their gory and criminal details. I presume then that the difference that the documents (and their purveyor, Julian Assange) will make, is nothing less than the halting of the American Empire's unholy crusade across the Middle East and Central Asia. Now
that
would be nice!
My friend correctly noted that we are talking about war crimes here - the exposure of the dirty details of the illegal US occupation of Afghanistan and the slaughter of tens of thousands of innocent civilians. Now that Assange had made it safely into the arms of the mainstream media, surely there is a chance that this evidence could effect a mass awakening among the world public who might yet stand up and take down the evil doers.