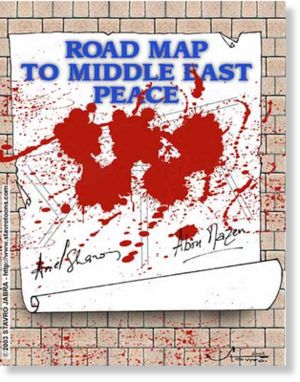 "Everybody has to move, run and grab as many hilltops as they can to enlarge the settlements because everything we take now will stay ours... Everything we don't grab will go to them." - Ariel Sharon, as Israeli Foreign Minister, addressing a meeting of militants from the extreme right-wing Tsomet Party, Agence France Presse, November 15, 1998.
By now it should be clear to all Middle East analysts that the main impediment to peace in the Israeli-Palestinian conflict is Israel and the right-wing Zionist extremists in Israeli politics.
Time and again the Palestinians have expressed their sincere desire to end the inhuman conditions under which they are forced to live by the occupying IDF forces, yet every time that a peaceful settlement seems to be within their grasp, bizarrely, Hamas or Islamic Jihad decide to fire a few, usually harmless, Qasam rockets at an illegal Israeli settlement, or unknown "Palestinian gunmen" will murder an Israeli settler, inviting the IDF to retaliate with deadly and overwhelmingly superior force.
How to explain such repeated, apparently self-defeating acts by the alleged representatives of the beleaguered Palestinian people? It has been obvious for many years now that the Palestinians cannot win an armed conflict with the massively militarily superior Israel and any further attacks against Israeli forces, population or interests simply provide Israeli politicians with the justification to increase Israeli control and oppression in the occupied territories. And Israel's nukes ensure that no other Arab nation dare interfere. It is equally obvious that the international community has all but washed its hands of the conflict and is resigned to allowing it to play out to its final and surely tragic denouement.