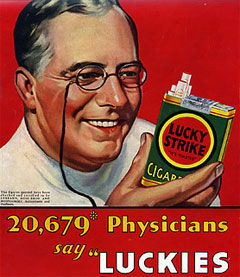 From recent news reports, it has come to our attention that smoking is a vice that "leaders" around the world are determined to stamp out. But why? The official story is that our ever benevolent governments wish to prevent "we the people" from damaging our health, and that of others (if you believe the "second hand smoke" fable. Those of a more cynical disposition claim that the truth has more to do government aims of cutting back on public health expenditure for preventable diseases like lung cancer.
Yet this explanation is relevant only for those few countries where public health care is free and is also contingent on the, as yet, missing evidence that smoking really is the number one cause of cancer, rather than the many other pollutants that we all inhale every day.
Given what we know of the contempt in which The Powers That Be hold most of humanity, and the lack of convincing evidence that even moderate smoking really is a risk to public health, we are forced to look for another reason for the increasingly world-wide witch hunt on smoking and smokers.