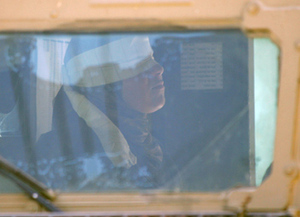 An innocent blindfolded Palestinian woman sits detained inside an Israeli army jeep in the West Bank city of al-Khalil (Hebron)
Few people in our technologically developed, yet morally bankrupt Western world possess even a basic understanding of just how horrible life in the Israeli occupied Palestinian territories is. Gaza is a small strip of land about 7 miles wide by 30 miles long. It is completely fenced in by the Israeli military, with the vast majority of its 1.5 million Palestinian inhabitants (making it one of the most densely populated areas in the world) denied the right to leave. Ever.
It is not surprising then that the Gaza strip has been compared to a giant open-air prison, because that is exactly what it is. In fact, there is a more exact phrase to describe urban areas like Gaza that have been turned into prisons for the inhabitants, it is a phrase that was made famous during the Second World War - 'Concentration Camp'.