One of the many strange things surrounding the murder of Alexander Litvinenko is the fact that it is being discussed at all. The exact details of the method used to assassinate him, his 3 week hospitalization, with pictures supplied by Lord Bell (more about him below) and Litvinenko's ultimate death have all been publicized to the greatest extent possible. This, it has to be said, is somewhat surprising given that covert intelligence matters (even those involving intelligence agencies of other nations) are usually kept covert.
For comparison, consider the death of Dr. David Kelly. Despite the
overwhelming evidence that Kelly was murdered
, the responsible parties (which undoubtedly included the Blair government although it is unlikely it was the only one) possessed sufficient control to muzzle the truth, with the official record showing 'death by suicide', general public skepticism about the affair notwithstanding. Control of the press is the cornerstone of any aspiring covert autocracy. If you control the press you control the minds of the masses and therefore....well, pretty much everything. From this we conclude that those who hold the real power in the UK
wanted
the blame for Litvinenko's death to fall on Putin, and to this end, allowed more freedom of the press than is normal in these cases. From there it follows that those in control of the press in the UK are enemies of the current Putin government and, it can be reasonably argued, had a hand in Litvinenko's murder.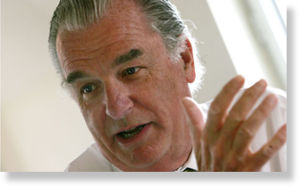 Speaking of the media; "Jewish" "Russian Oligarch" Boris Abramovich Berezovsky whom I mentioned in
part 1
, is a close confidant of one Lord Timothy Bell, an establishment "Conservative" party member and one of Britain's most successful and experienced public relations experts. In
an interview published in 'The Observer' on April 27 2003
, Berezovsky boasted that his
"campaign to resist extradition and win political asylum is being masterminded by Conservative politicians and, in particular, the communications guru Lord Tim Bell." Berezovsky says: "I have a lot of connections here, not so much with New Labour but with the Conservatives. Lord Bell for example.
"
Lord Bell of Belgravia (as he likes to be known)
is also
a purveyor of PR advice to media luminaries such as Rupert Murdoch and has also peddled PR to Ukrainian president Viktor Yushchenko (another victim of poisoning), and is a longtime confidant of none other than the iron lady herself, Baroness Thatcher, who he almost single-handedly propelled into Downing Street in 1979. (True power in Western "democracies" has never lain with the public faces of government it seems).
My main question here is: did Berzovsky have a hand in the murder of Litvinenko?