I nearly snorted my herbal tea through my nose this morning when I read:
Secretary of State Condoleezza Rice on Friday criticized Sen. Barbara Boxer's suggestion that because she doesn't have family in harm's way, she won't pay a personal price in the Iraq war.

"In retrospect, gee, I thought single women had come further than that, that the only question is are you making good decisions because you have kids," Rice said in an interview Friday on Fox News.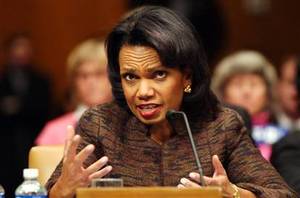 ©AP
Condolizzard "Klingon" Rice Exudes Mother-Love
As you can see in the photo above, Condi is practiced at exuding Motherly Love in every nuanced look and gesture. She's holding out her hands for an infant... to devour, I guess. Crocodiles do it. That's her version of feminism.
Barbara Boxer made an interesting point when she highlighted the fact that Condolizzard Rice - since she has no children - has little to lose with her war-mongering for Israel. (Perhaps Condi imagines that Israel will reward her with the presidency if she is a loyal and faithful lizzard.)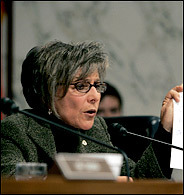 ©unknown
Boxer and Rice have met before...
But oh, my, has the Zionist-controlled media had a field day with this one, rapaciously smearing and defaming Boxer.
"I spoke the truth at the committee hearing, which is that neither Secretary Rice nor I have family members that will pay the price for this escalation," she said. "My point was to focus attention on our military families who continue to sacrifice because this administration has not developed a political solution to the situation in Iraq."
What's interesting is that another story in the news may provide enlightening insight into the issue.