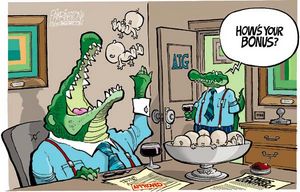 The Swiss, a nation long famous for their devotion to banking secrecy, have decided to do away with all that and open the books of UBS to the US government; AIG bonuses are in the spotlight while in fact there is much more to AIG than meets the eye, hence the focus on bonuses; Babcock & Brown went into receivership; GE had its credit rating downgraded; and the G20 Finance Ministers met in Horsham (UK).
What looks suspiciously like a renewal of the British war against the Irish, in a bid to develop a renewed domestic terrorism threat, began with three murders; the circulation of a highly doctrinaire policy document to Missouri State Highway Officers, which flies in the face of the US Constitution, was thankfully brought to public attention, while the French held a bio-terror exercise with the premise that "anti-capitalist = terrorist".
Meanwhile with the focus on bonuses, and the AIG Financial Products ones in particular, are we seeing the beginnings of a manipulated class war? There's nothing like a good distraction to keep people from looking for the real bad guys.