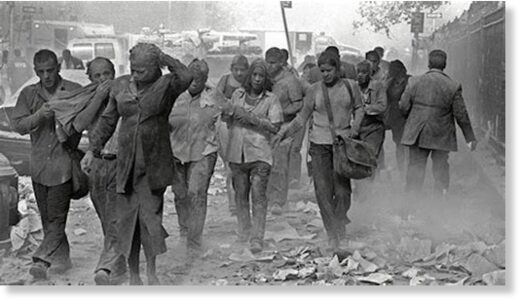 It's been well over a year now since the health scare dubbed the Covid-19 pandemic has had any widespread impact upon the lives of the vast majority of humanity. Since the "fog of war" has lifted, so to speak, there has been very little introspection regarding the knee-jerk authoritarianism imposed upon humanity in the liberal press or mainstream academia. Eerie parallels connect the panic stirred up during the health crisis with the reaction to 9/11. There is also plenty of circumstantial evidence of prior knowledge and pre-planning for both of these events. In their wake, mass hysteria, government propaganda, tyranny, censorship, and irrational belief systems spawned out of each, supported by ruling class interests and mass media mouthpieces.
Although many policies related to the global war on terror and the pandemic certainly have fascistic and totalitarian impulses, there are key differences. Whereas the fascist and totalitarian rely on a single despot, and the marginalization of minority groups,
postmodern tyranny
operates according to the flows of late capitalism: diversity and inclusion are encouraged; power is spread through a corporate oligarchy, as well as political, military, and now medical hierarchies; and devastating economic and social effects are engendered by "absent causes"; i.e., abstract engines of capital: stock fluctuations, algorithms, financial instruments and various Finance/Insurance/Real Estate (FIRE) sector bubbles and scams.
The public is predictably bewildered by a revolving cast of bureaucrats and elites with varying amounts of sociopathic and narcissistic traits; however, the personal attributes of the cast members are extraneous to capital accumulation, imperialism, and the liquidation of nature. It is fine to use phrases like fascist or totalitarian in response to government policies for rhetorical effect; however, most Americans do not feel that way or use that terminology, which harkens back to a simpler era of boot stamping. We are rather enmeshed in a
dictatorship of capital.