As the 40th anniversary of the murder of Robert F. Kennedy approaches, we continue with an analysis of that horrible event. Click here to read Part 1.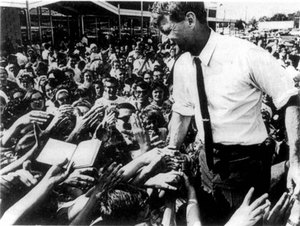 ©Unknown
Bobby Kennedy addresses a crowd
Before we get back to our story, a few words on the word conspiracy. Given the definition of the word that seems to be in vogue with those who seem to have a vested interest in debunking any notion of conspiracy these days, I'd have to say that I am no believer in conspiracy theories. As they'd have it, a conspiracy implies managing to get a whole lot of people, from the top to the bottom and sideways in both directions, to knowingly maintain a consistent lie over a long period of time. This would include everyone from the lowest on the totem pole to all of the attorneys, reporters and witnesses involved in an incident.