Comment:
We don't know exactly how many people were there, but it was probably similar in crowd size to the
1.3 million people
organizers estimated filled the streets at an anti-Fascism rally in Berlin at the beginning of August.
In any event, what actually took place was the direct opposite of what global media is reporting: 'a few thousand neo-NAZI conspiracy theorists ranting about freedom or something...'
RFK Jr was one of the speakers, and he did his forebears proud...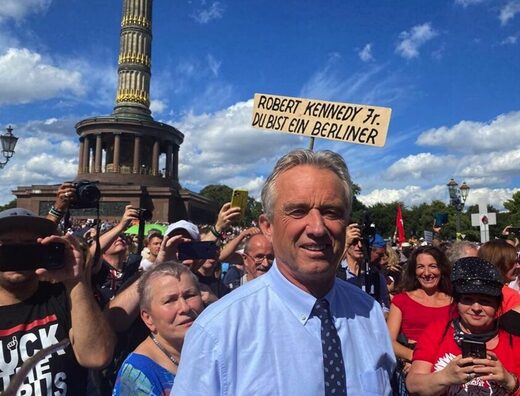 We've transcribed Robert F. Kennedy Jr's speech below (broadcast through RT Deutsch), punctuated as it is with German translation, made to hundreds of thousands of Germans assembled in Berlin yesterday, Saturday, August 29, 2020, to protest the anti-democratic measures of the COVID scare. Below that is a short video of the Brandenburg Gate area as yesterday's crowd was assembling, with a short video of Kennedy speaking to a reporter.
Kennedy's Children's Health Defense has also issued its
own video
recorded from the back of the stage, along with the transcript of Senta Depuydt's speech and some photos. Senta is an Officer of the new European chapter of CHD. See this post on Children's Health Defense for Friday's CHD press conference in Berlin:
Robert F. Kennedy, Jr. Holds a Press Conference in Berlin After Launching CHD's Europe Chapter
.