A 2-foot-long chunk of ice that looked like compacted snow but whistled like an artillery shell crashed through the roof of the Drayson Center at Loma Linda University on Thursday morning.
No one was injured when the ice hit sometime between 8:55 and 9:15 a.m. The ice broke into pieces in the lattice work above the floor of the unoccupied Opsahl Gymnasium.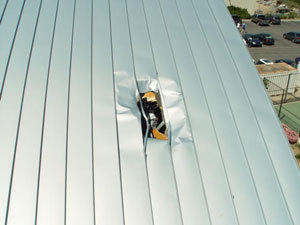 ©The Press-Enterprise
A chunk of ice that ripped through the roof of the Drayson Center on Thursday also tore through a coating of tar paper and plywood underneath, then through a layer of insulation and the ceiling of the gymnasium.
Maintenance workers retrieved a chunk about twice the size of a man's head, double-bagged it and stuck it in a freezer to save for Federal Aviation Administration officials.