A flying saucer, a practical joke or simply a trick of the light?
Call it what you will, an eagle-eyed walker has spotted yet another UFO hovering in Hampshire's skies.
This mysterious object was seen circling above trees in the New Forest in broad daylight on Sunday morning.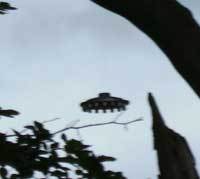 ©Basingstoke Gazette
AIRBORNE MYSTERY: The UFO seen through the trees.