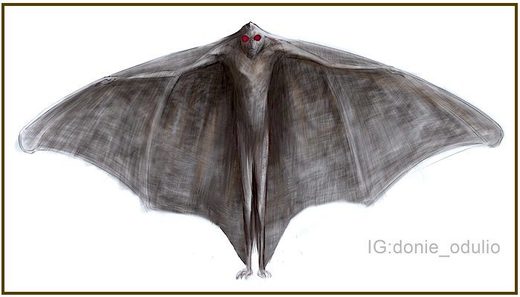 I was at the airport picking up a load at Nippon, I was already backed into a dock and was standing away from the truck smoking a cigarette while they loaded my truck. I was looking toward the runways, in the direction of the tunnel and that is when I noticed something that looked like a large bird standing just outside of the fence by the parking lot. It was not hard to miss because two street lamps were nearby. It looked like a person with wings that were stretched out and flapping. It was walking away from the fence toward the open field and then began to flap its wings and disappeared.
Investigator Notes:
I spoke with the witness via phone and was able to get a little more information regarding this sighting. The witness primarily speaks Spanish but was able to report this sighting with the help of his daughter and her boyfriend. The witness was standing away from his truck as it was being loaded smoking a cigarette when he said
he caught movement out of the corner of his eye and saw the being standing near the parking lot and was illuminated by two street lamps.
The witness stated that
the creature was about 7 feet tall using the fence as a point of reference.
When I asked him how he was able to be so certain as to the height of this being, the driver stated he has been to this location multiple times and he estimates the fence to be about 8 feet high. Using the fence he was certain that the being was at least seven feet tall.