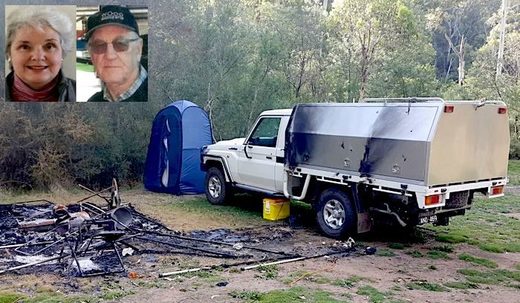 Photos have emerged of the burnt-out campsite and abandoned car of two older friends,
missing in Victoria's High Country
for 11 days.
Russell Hill, 74, left his Drouin home on March 19 with plans to camp along the Dargo River in Gippsland.
Carol Clay, 73, a former Victorian president of the Country Women's Association, told friends she was going away and would be back home in Pakenham no later than March 29.
Mr Hill's car and their campsite were found abandoned and burnt out near Dry River track at Billabong in the Wonnangatta Valley, north of Licola on Friday.
Ms Clay's belongings were in the car. Police are trying to work out why the pair abandoned the well-equipped vehicle when it was still able to be driven. They are also investigating who lit the fire at the campsite and who extinguished it.