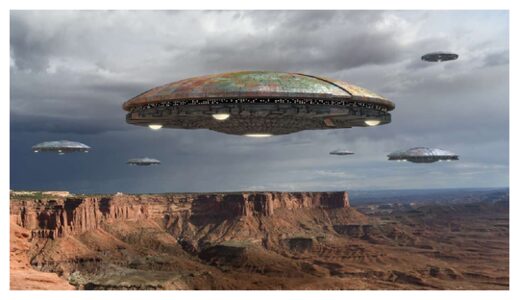 During the 1990s, American families gathered around their televisions on Sunday nights and watched
The X-Files,
where FBI agents Fox Mulder and Dana Scully were part of secret government research into Unidentified Flying Objects.
Then in 2017,
The New York Times revealed
conspiracy theorists were right all along.
The government for decades really did have secret agencies investigating UFOs and military pilots reported numerous contacts with flying objects.
Unidentified flying objects (UFOs) have appeared throughout human history and are typically associated with extraterrestrial life visiting Earth. As early as 1639, Massachusetts Bay Colony cofounder and governor John Winthrop reported a "sober, discreet man" named James Everell had seen a "great light" in the sky running back and forth over the Muddy River for several hours. By the time it vanished, Everell and the other men in his boat were a mile upstream from where they'd been and they had no memory of how they'd arrived there, according to an account in
New England Today.
In modern times, "the first well-known UFO sighting occurred in 1947 when businessman Kenneth Arnold claimed to see a group of nine high-speed objects near Mount Rainier in Washington while flying his small plane," reports
History.com
. Though Arnold described the shapes as being crescent-shaped, they were mistakenly reported as being saucer-shaped in the media, leading to the first usage of the term "flying saucer."
Utah, with its barren deserts and dark, starry skies has long been considered a hotbed for unidentifiable sightings.
Over the years, there have been more than 1,000 UFO sightings in Utah, according to journalistic data analysis website
Stacker.com
. Some of these sightings have a reasonable explanation, including recent reports of lines of lights moving across the night sky.
These trains of brightly lit objects, reportedly seen over Utah as recently as February 2021, turned out to be Starlink Satellites, a SpaceX project launched by Elon Musk, which aims to provide internet service everywhere on Earth, according to
Space.com
.
Other sightings, however, are not so easily explained.