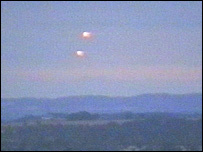 ©unk
Pilots have reported unusual foreign objects since the 1940s.
Residents in County Down have raised the possibility of a UFO sighting above the skies of Bangor.
Several callers to BBC Northern Ireland have reported a series of strange orange lights in the night sky.
Air traffic control at Belfast International Airport said it had also received reports about the sightings, including one from the Coastguard.
However, the airport said it had no record of any aircraft in the sky at the time.
The callers said the sightings had been made on Saturday evening.