Dubuque, Iowa - Large chunks of ice, one of them reportedly about 50 pounds, fell from the sky in this northeast Iowa city, smashing through a woman's roof and tearing through nearby trees.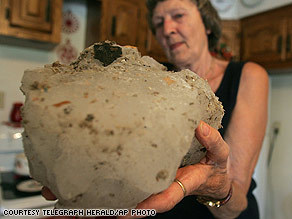 ©Telegraph Herald/AP
Jan Kenkel holds a piece of ice that fell through the roof of her Dubuque, Iowa, home on Thursday.
Authorities were unsure of the ice's origin but have theorized the chunks either fell from an airplane or naturally accumulated high in the atmosphere - both rare occurrences.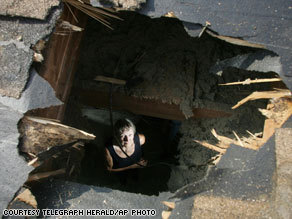 ©Herald Tribune/AP
The mysterious falling ice left a hole in the roof of Kenkel's home.