The first crop circle formation of the 2007 season has arrived - bigger and earlier than ever before.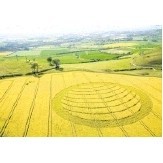 ©Wiltshire Gazette
The crop circle near Devizes
It measures a huge 333ft across and appeared over the weekend in a field of striking yellow oil seed rape.
While crop formations have been known in April, most usually start being discovered in early May and are smaller affairs.
It is located beneath Oliver's Castle, a hilltop archaeological site near Devizes, famous among crop circle devotees as the spot video footage supposedly showed a crop circle being made by two balls of light.