Airlines were investigating why windshields on at least 13 planes were reported cracked at Denver International Airport within a two hour period on Friday.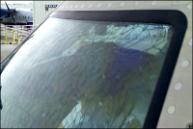 ©AP
One of the 13 cracked windshields at DIA on Friday, February 16th. Only the outer layer of the windshields were affected.
At Denver International Airport, spokesman Steve Snyder confirmed that about 12 airplanes sustained cracked windshields Friday as high winds buffeted the state, delaying some flights.
Snyder said officials were "baffled'' by the incidents and found no evidence of flying debris that could have caused the cracks.