Were they planes? Were they spaceships? Or were they Chinese lanterns!
That is the question many residents in Comet country are asking themselves today following a number of reported sightings of Unidentified Flying Objects (UFOs).
On Saturday between 10pm and 11pm Stevenage residents spotted between two and seven orange spheres in the sky, travelling parallel with Luton Airport's flight path and today (Monday) the
Comet
has been inundated with calls from people who think they may have spotted extra terrestrial activity.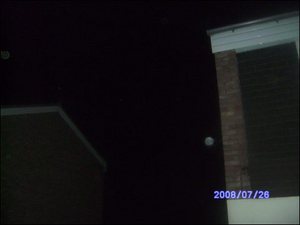 ©Unknown
Sean Riley, who was holding a barbecue in Wisden Road, Stevenage, said: "There were four very bright orange objects going from north to south, one following the other with a fair gap and then going straight up and disappearing. I had not been drinking and 10 other people at my barbecue saw them, also aircraft going to Luton airport were in close proximity."
A year ago motorists reported a similar sighting between Baldock and Royston on the A505. They saw orange balls of light moving across the sky but Luton Airport said they believed they were Chinese lanterns which had been lit and then released into the air.
Mr Riley added: "We're fairly logical and reasonable people.
They were travelling north to south and the wind was going in the opposite direction so it couldn't have been Chinese lanterns. Some people look at our photos and say what we saw was the moon but there hasn't been a full moon for a long time.
Ken Tobin who was at Mr Riley's barbecue said: "I didn't believe in UFOs until Saturday. It was quite unbelievable.
"The spheres were silent and travelled in a straight line and then got dimmer and dimmer. I have never seen anything like it."
Ian Sharp of Jessop Road said: "I was lying in bed when I saw two orange lights glide across the sky about 15 seconds apart. They were following a plane that had just flown over. It was something I'd never seen before."
They were also spotted on the Jackmans Estate in Letchworth GC and near Bancroft in Hitchin.