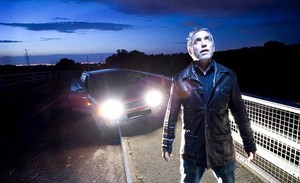 ©Channel Five
A scene from Channel Five documentary Britain's Closest Encounters reveals a flying saucer hovered for 10 minutes above the mountains in North Wales in 1974 before disappearing
One of Britain's greatest UFO riddles refuses to go away as a new witness emerged today - 34 years after the alleged 'close encounter'.
The Government is said to have covered up 1974's event in North Wales, where scores of residents reported a massive tremor, strange lights in the sky and secret-service-style 'men in black' scouring the area.
It has been dubbed the 'Welsh Roswell' after the famous U.S. case in which aliens were allegedly found by authorities in New Mexico.