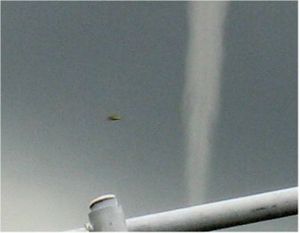 ©Unknown
A UFO spotted over West Lancashire could feature on an American Sci-Fi programme after experts denied the photograph was a fake.
Pat Regan, 51, of Sandbrook Road, snapped the oval object during the stormy weather last weekend and has since been hounded by international press.
He said: "I took a simple picture of a very unusual natural phenomena and inadvertently snapped a UFO at the same time. The worldwide media interest has been incredible, with the story cropping up in many countries. I am just gobsmacked by it all!"