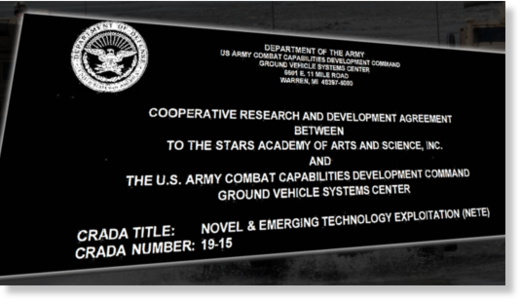 To The Stars Academy of Arts & Science (TTSA)
, a public benefit corporation led by rock star Tom DeLonge,
announced
a collaborative agreement with the U.S. Army this week. The original press release sent out by TTSA was vague, and offered few details. However, the Army spoke with The Black Vault to discuss the agreement, and offer a copy of the entire document, nearly in full (understandably, a few phone numbers were removed for privacy reasons).
The news broke on October 17, 2019, wherein TTSA stated in a press release, "[TTSA] announced today a Cooperative Research and Development Agreement (CRADA) with the
U.S. Army Combat Capabilities Development Command
[CCDC] to advance TTSA's materiel and technology innovations in order to develop enhanced capabilities for Army ground vehicles."
The press release continued, "TTSA will share its discoveries with
Ground Vehicle System Center
(GVSC) and Ground Vehicle Survivability and Protection (GVSP) and the U.S. Army shall provide laboratories, expertise, support, and resources to help characterize the technologies and its applications."