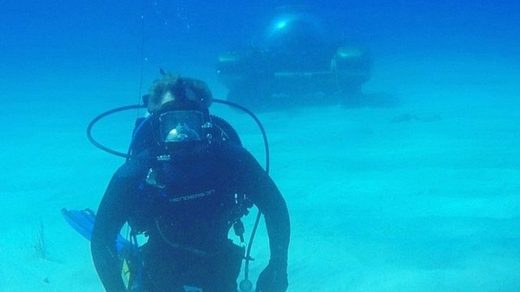 A treasure-hunter exploring the depths of the Bermuda Triangle using a secret map made by NASA astronaut Gordon Cooper in space has made a mysterious discovery which he claims may prove the region was visited by aliens.
Explorer Darrell Miklos has been investigating more than 100 magnetic 'anomalies' using maps created in the 1960s by his friend and famed NASA astronaut Cooper to locate shipwrecks in the Caribbean.
Many of Miklos' discoveries have been featured over two seasons of the Discovery Channel docu-series 'Cooper's Treasure.' However, the latest installment of the show includes an unexpected discovery at an undisclosed location near the Bahamas.
Miklos had expected to find an ancient shipwreck but instead, the explorer said he found an astonishing structure unlike anything he had seen before. The 'unidentified submerged object' (USO) is huge, and has 15 long 15,300ft obtrusions extending from its side.