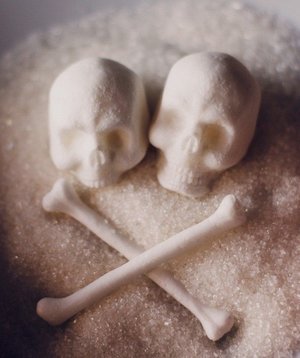 It is estimated that the average American consumes 94 grams of sugar daily.
[1]
This amounts to nearly 2 billion pounds of sugar each month in the form of candies, cakes, breads, cookies and other sweet treats. Our national sugar addiction rages on despite the fact that sugar is widely known as a major culprit in our country's epidemic levels of disease. A recent report from Credit Suisse's Research Institute revealed that approximately "30% - 40% of healthcare expenditures in the USA go to help address issues that are closely tied to the excess consumption of sugar."
[2]
The figures suggest that our high consumption of sugar runs us an incredible $1 trillion in healthcare costs each year. The Credit Suisse report highlighted several health conditions including coronary heart diseases, type II diabetes and metabolic syndrome, which numerous studies have linked to excessive sugar intake.
[3]
Though it takes little effort to discover the abundance of scientific research demonstrating sugar's deadly effects on health, most Americans prefer to ignore the reality of this toxic dietary staple. Let's take a closer look at a few of the latest studies available to them if they chose to look:
The prestigious scientific journal Human Reproduction published a study last year showing that girls who consumed higher amounts of sugar sweetened beverages began menstruating earlier than their peers. Early menstruation among girls is known to increase the risk of breast cancer later on in life. The study is notable because other than sugary drink consumption no other variable that was measured, including body mass index or total food intake, correlated to earlier menstruation. [4]