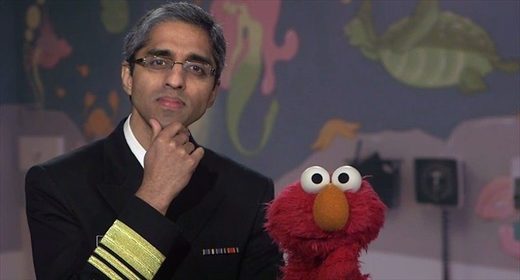 The White House on Friday abruptly, and without warning, dismissed U.S. Surgeon General Vivek Murthy, a holdover from the Obama administration.
"
Today, Dr. Murthy, the leader of the U.S. Public Health Service Commissioned Corps, was asked to resign from his duties as Surgeon General after assisting in a smooth transition into the new Trump Administration
," the Department of Health and Human Services said in a statement, according to
USA Today
.
The US public has been forced to sit by over the recent years as Murthy shilled for Big Pharma to target children. To kick off National Infant Immunization Week in 2015, Murthy teamed up with Sesame Street and Elmo for behavior placement directed at your children. The campaign sought to convince the real decision makers when it comes to childhood and infant vaccination; the children and infants. Having undertones of plain creepiness throughout the advertisement, the Surgeon General implied to your children and Elmo that their bodies can fight germs only with the help of vaccines.