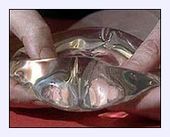 Scientists in Japan claim to be able to increase the size of a woman's breasts using fat and stem cells.
The technique uses fat from the stomach or thigh which is then enriched with stem cells before being injected.
It is hoped the method could prove a more natural-looking alternative to artificial implants filled with salt water or silicone.
But plastic surgeons working in Britain have greeted news of the technique with "extreme caution."