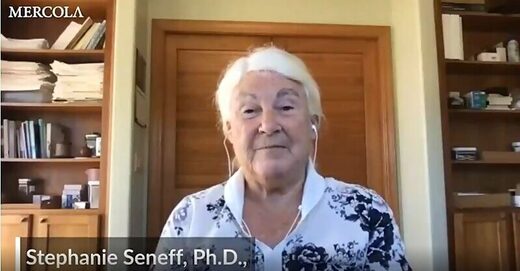 In this interview, return guest Stephanie Seneff, Ph.D., a senior research scientist at MIT who has been at MIT for over five decades, discusses her latest paper, "Innate Immune Suppression by SARS-CoV-2 mRNA Vaccinations. The Role of G-quadruplexes, Exosomes and MicroRNAs," co-written with Dr. Peter McCullough, along with two other authors, Dr. Greg Nigh and Dr. Anthony Kyriakopoulos.
Previously, Nigh and Seneff co-wrote an entire paper detailing the differences between the spike protein and the COVID jab spike protein. In a non-peer-reviewed research paper just this week published on the
pre-print service authorea
, they and their other co-authors delve deeply into the mechanisms of the COVID shots, showing how they absolutely, in no way, shape or form, are safe or effective. The shots actually suppress your innate immune system.
"I think McCullough is fantastic and I'm so happy to have him collaborate with me," Seneff says. "I really hope we will be able to find a journal that is willing to publish it. We may have to seek some kind of alternative media to get it published.

It's really incredible the amount of censorship that's going on right now. I'm in a state of shock all the time. I just keep thinking it's not going to get any worse, and it's truly going to get better, and it just seems to keep on getting worse and worse.

I don't know where the end is. It's very discouraging ... Pharma has so much money behind [them] and they've got it all set up to make sure that nothing gets past them ...

We're hoping to put it up as a preprint, but ... remarkably, they can reject it at the level of preprint as well. We're working on that angle, but it's not easy. When you're writing something this radical, they really fight hard to keep it off the web."
On January 16, 2022, the pre-print service Authorea published
this paper
on its web site, assigning it a DOI, thus making it official.