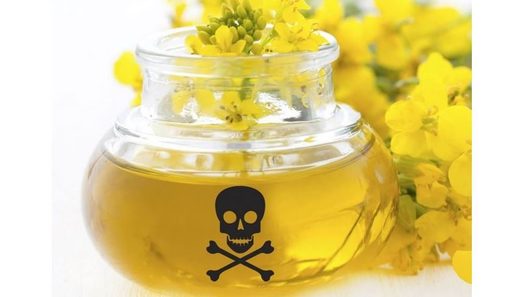 Some of you may remember, in the mid-1990s, when a new oil showed up on grocery store shelves and in the ingredient lists of many processed foods. It was called canola, and it was voraciously marketed as a healthy new oil, similar to olive oil in its fatty acid profile, yet cheaper. A public thoroughly brainwashed into the belief that saturated fats were killing us, having traded in their butter for vegetable oils, but already becoming leery of soy, corn and cottonseed, were quick to adopt a cheaper alternative to olive oil which had come to be viewed as basically the only "safe fat".
It seemed few were asking the right questions at the time; namely 'What the hell is this stuff?'
Canola is a Canadian invention, created by cross-breeding the rapeseed plant, the oil of which is toxic for human and animal consumption, so that it no longer produces (much) of the toxic constituent erucic acid. International regulations differentiate canola oil from rapeseed by checking the erucic acid levels - if it has less than 2% erucic acid, and less than 30 µmoles glucosinolates, it's canola (a trademarked term, by the way).