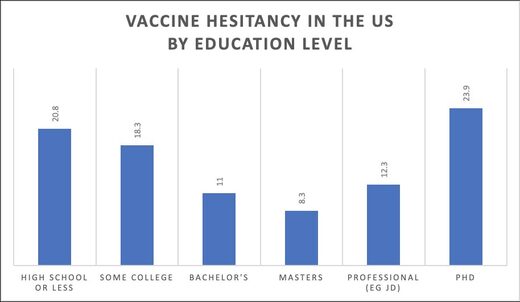 A new study found that the most educated are the least likely to get jabbed.
There has been much debate over how to get the unvaccinated to get their jabs —
shame them
,
bribe them
persuade them
, or
treat them
as victims of mis- and disinformation campaigns — but who, exactly, are these people?
Most of the coverage would have you believe that the surge in cases is primarily down to less educated, '
brainwashed
' Trump supporters who don't want to take the vaccine. This may be partially true: the areas in which the delta variant is surging coincide with the sections of red America in which vaccination rates are lowest.
But according to a
new paper
by researchers from
Carnegie Mellon University
and the
University of Pittsburgh
, this does not paint the full picture.
The researchers analysed more than 5 million survey responses by a range of different demographic details, and classed those people who would "probably" or "definitely"
not
choose to get vaccinated as "vaccine hesitant."