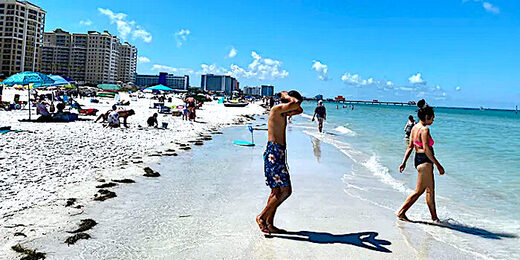 Five people are confirmed dead in the Tampa Bay area because of a
flesh-eating bacterium
known to lurk at beaches, Florida officials reported.
According to Florida Health
,
the
vibrio
vulnificus
bacterium's natural habitat is in warm, brackish seawater because it requires salt to live.
The bacteria typically grow more quickly in warmer months.
Infections are rare, but health officials say
those with open wounds, cuts or scrapes should stay out of the water.
Five people have died this year from reported bacterial infections, including two in Hilsborough County and one each in Pasco, Polk and Sarasota counties.
There have been 26 reported cases of
vibrio v
ulnificus
infections in Florida since January,
officials said.
In 2022, there were 74 total cases and 17 deaths. Those numbers were abnormally high that year because Hurricane Ian spilled sewage into the ocean, increasing bacteria levels.
According to the Centers for Disease Control and Prevention (CDC),
some
Vibrio vulnificus
infections lead to necrotizing fasciitis, a severe infection in which the flesh around an open wound dies.
Necrotizing fasciitis can be caused by more than one type of bacteria.