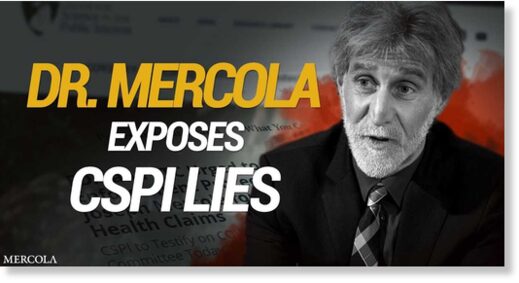 For the past two decades, my mission has been to help you take control of your health. Recent developments now threaten my ability to do that. July 21, 2020, the Center for Science in the Public Interest (CSPI) issued a press release
1
and testified in a Senate hearing on the topic of COVID-19 scams.
The press release contained lies, fabrications and a reckless disregard for truth
in an attempt to put an end to me and this website
.
Additionally, in an August 12, 2020, email, CSPI president Dr. Peter Lurie
2
— a former FDA associate commissioner — claims I'm "profiting from the pandemic" through "anti-vaccine fearmongering" and reporting of science-based nutrition shown to impact your disease risk. According to Lurie:
"Mercola brazenly has claimed that many of his products are coronavirus treatments or cures, including vitamin C, vitamin D, zinc, selenium, 'molecular hydrogen,' licorice, and other substances.
Besides profiting from the pandemic, Mercola has seemingly advised people to contract COVID-19 after taking supposedly 'immunity boosting' supplements (which of course he sells). Making matters worse, Mercola is a leading proponent of anti-vaccine conspiracy theories — and has been fearmongering against prospective COVID-19 vaccines even before such vaccines are available!"