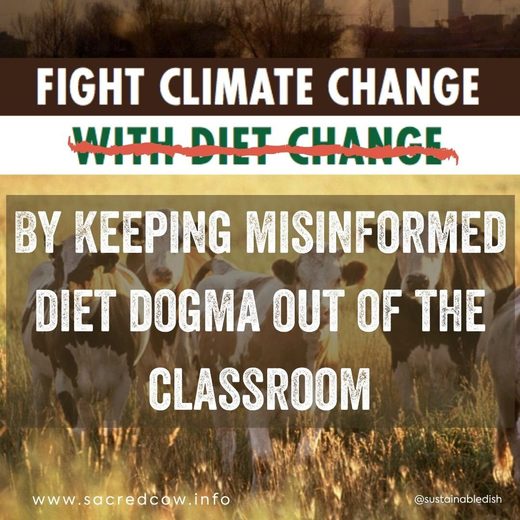 Pamphlets and booklets proselytizing an animal-free diet for climate mitigation are being distributed to schools at an alarming rate. Keep reading to learn how important it is to speak with your children about agricultural production, livestock, and how there is a responsible and environmentally beneficial way to consume animal products.
A child attending an Oregon public school was recently given a booklet called
Fight Climate Change With Diet Change
. The content of the booklet was completely against consuming animal products, lacking any information about how livestock can be used to
build topsoil and sequester carbon
. It even went on to say that not only is going vegan better for the planet, it is also better for human health.
The booklets are funded and distributed by the Factory Farm Awareness Coalition and an activist group called Vegan Outreach. Established in 1993, Vegan Outreach is known for distributing their literature on college campuses. To a person with no background in nutrition or agriculture, it is easy to understand how the pamphlets could be very convincing, especially for children. They are attractive and colorful while offering seemingly simple solutions for reducing climate impact like claiming that reducing meat consumption reduces water consumption. As we've noted on Sacred Cow,
beef is not the water hog
that most pro-vegan groups claim.